Lead generation techniques with B2B automation software
//7digits.net/wp-content/uploads/2018/06/b2b-automatizacio-cover-1024x536.jpg
1024
536
Zsolt Farkas
https://7digits.net/wp-content/cache/swift-performance/7digits.net/garvatar-cache/70130dd0f5a9d75a31f4f9b1d138ebde
Lead generation techniques with B2B automation software
When 7 Digits attended this year's GrowthHackers Conference in San Diego, we heard a presentation that stuck in our heads and instantly knew that this will be the future of B2B marketing. It was about B2B lead generation techniques with high-level B2B automation software.
B2B marketing strategies are often 'spray-and-pray' type strategies. Marketers do something which is not measurable and they pray for the results.
With these high-tech solutions, this is not the case. Let's see these B2B tools one by one.
B2B lead gen software
#1 MADKUDU
Madkudu uses predictive analytics in order to qualify incoming leads. What is really cool is that it sees the upsell potential when a user starts to use the platform.
It has 2 main features.
The first is a contact form that finds more context about the user who fills out the form and tells you whether you need to handle the user immediately or whether it's not that urgent. So it prioritizes among the prospects.
The other feature is its ability to analyze the behavior of your current users. It can flag users who may be ready to convert, who could be receptive to upselling, and who might be thinking about cancelling your service. With this information, your sales team can act properly.
7 Digits uses the same lead generation techniques, but we did it manually before finding this solution.
#2 INTELLIMIZE
Intellimize is able to make personalized content recommendations. Using machine learning, it helps you show the content that each user will be most likely to read.
It declares war against conventional A/B testing.
It can tell you more quickly which test was more successful. Furthermore, it changes the test variants based on the characteristics of the audience on your website.
Let's see an example. In the image below, you can see a normal A/B test. The variants run in parallel until some point where the software (we use Google Optimize) tells you which performed better. Let's say 'B' got better conversion rates, so we stop 'A' and run B further.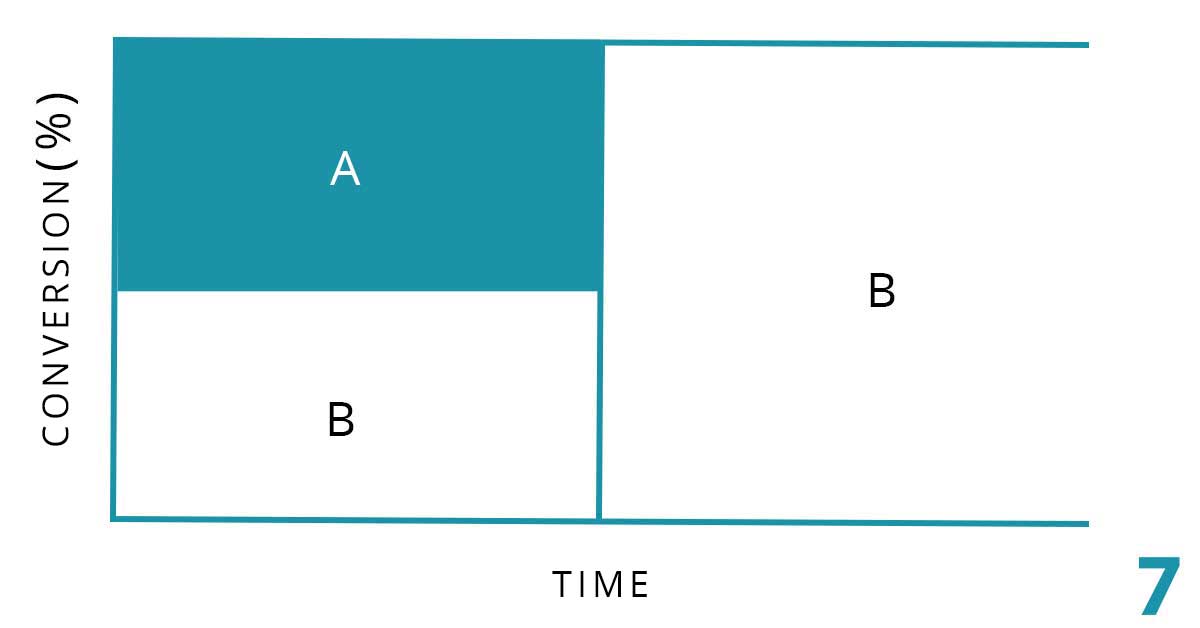 Intellimize says that the variants should run in parallel for a shorter length of time. Using machine learning, the algorithm then figures out what variant should be shown to whom. The 'A' variant will be shown for those who are more likely to engage with 'A,' and 'B' for users that might be more receptive to 'B.'
It is almost ABM (Account Based Marketing), where everybody sees the content that will generate the highest chance of conversion.
What do we win with this whole thing? The lined parts of the graph. Because we will burn many fewer users than under a normal A/B test.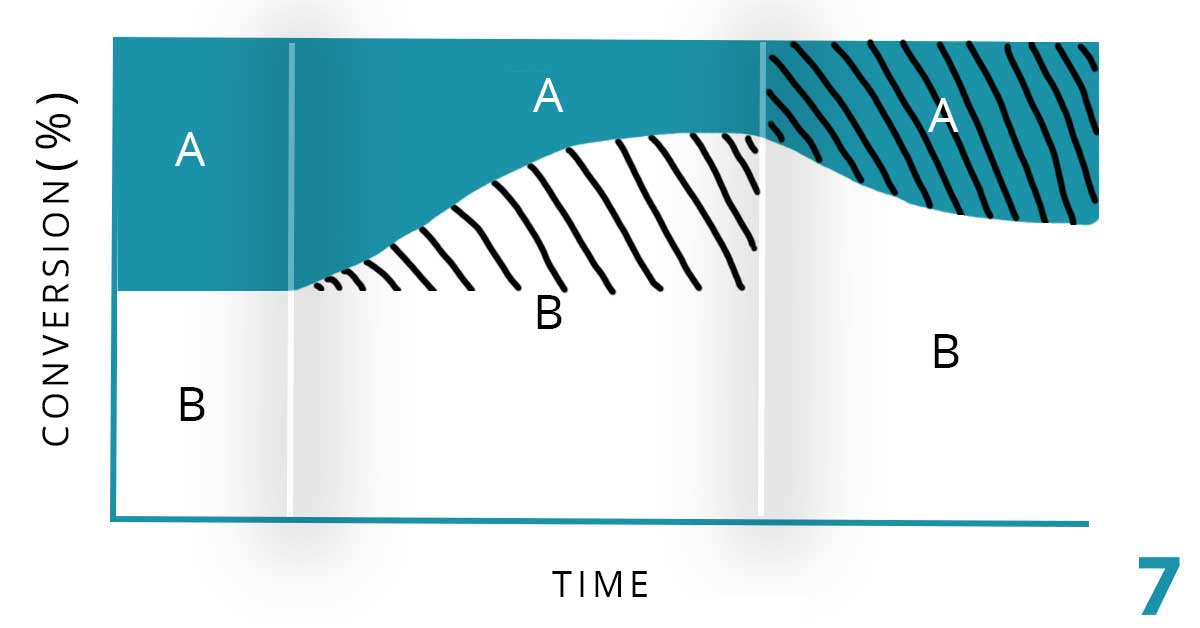 #3 DRIFT
Drift is a real pioneer in b2b lead generation examples and solutions. The know-how that they share on their blog is really valuable.
Let's see an example. You send a newsletter, a subscriber of yours opens it, clicks through and arrives at your website. Here's where the Drift knowledge comes in. The software recognizes her, so it can send her a personalized message, and it can even schedule a call with your enthusiastic blog reader.
Or let's take another case. Somebody subscribed to your list and he starts to get emails from your pre-built sequence (we use Active Campaign or Drip).
After a while, he starts a conversation with your chatbot or schedules an intro meeting. In this case, the system unenrolls the user from the email sequence so he won't get anything that is not dedicated to his stage in the sales funnel.
Drift does ABM as well. The software warns you if a big shark (prospect) arrives at your website and you can send him a PM in a chat message. On top of that, within the dashboard, you can monitor your sharks' browsing activities while they are on your site. What they read, what they communicate with your bot, when they left, literally everything.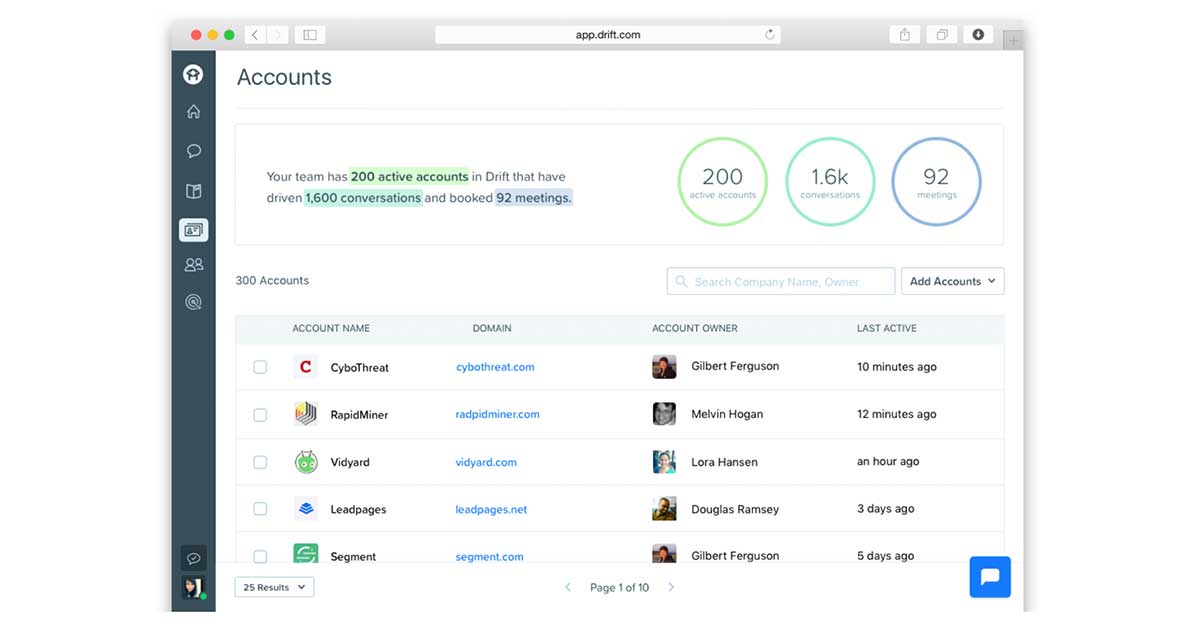 #4 DATANYZE
This software may be the biggest help to your sales team. The first cool feature is the technology tracking, which sends you a notification when a potential client adds any kind of add-on or software to their website or app, and when they remove it.
If you sell, e.g., CRM solutions, and you get notified that your potential customer just removed the competitor's software, there is no better time to jump on the prospect.
PRO tip: On top of this, it allows you to run deep searches with several filtering options. For example, if you want to search for CEOs who (1) work for Cali companies (2) and use 'X' technology, you will immediately get the names and email addresses.
The other smart function is the predictive analytics. You connect your CRM, giving Datanyze access to your clients' information and their technological background. Then the platform starts to look for companies in its database with 35 million hits that are similar to your clients.
What is it if not a prospect generator machine?
#5 CLEARBIT (CONNECT)
Clearbit is also great for B2B lead gen. But it has an add-on that every marketer needs. It is called Clearbit Connect. You can implement it in your Gmail account, and with its help, you'll be able to find email addresses and social profiles for many professionals based on their company name and their position within that company.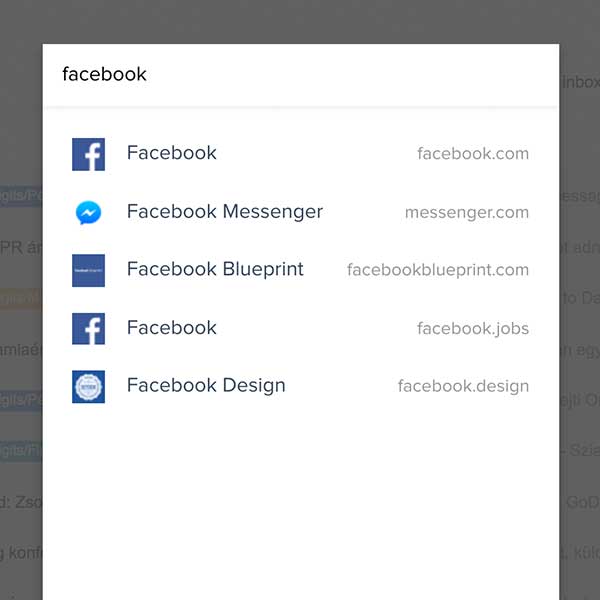 For up to 100 searches, the add-on is free. So if you want to reach out, but you can't find the email address of the target person on LinkedIn, it can be a great tool to use.
I used it when I did my research on digital marketing trends last year, and I found almost 160 email addresses out of the 200 I looked for.
Summary
Although all of these products can give you an edge when generating sales leads in B2B, lead generation software is just one part of the bigger picture.
If you are really a pro, you'll place them into a system in which they can help each other and work with other lead generation techniques in parallel.
To set up a system like this is not the easiest task. These tools should align with the company culture and sales strategy, and you will need software-specific training as well.
On top of that, these tools will work only for companies who've already implemented the basics of B2B lead gen. Content marketing, well-targeted paid campaigns, segmented email sequences. These are just a few of the techniques that should be implemented at any company that takes B2B lead gen seriously.
Why? Content helps you to build credibility, distribution via paid channels helps you to reach your target market, and email is a great tool for multi-step lead nurturing.
If the foundation for excellent B2B sales is not solid, you will have some expensive software to play with without meaningful results.